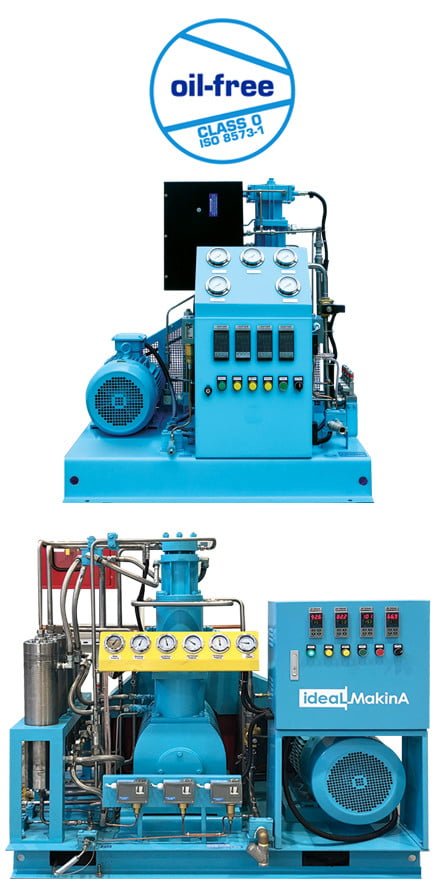 Gas compressors are needed to pressurize and store different gases (N2, O2, CO2, Ar, He, H2) in various industries. Ideal oil-free high pressure gas compressors are separated from standard compressors with their special technology.
Especially, the friction parts of the compressors used to pressurize flammable gases are not lubricated with fine oil. Friction seals, such as piston rings and guide rings, are made of special materials with self-lubricated properties.
STRUCTURAL ADVANTAGES:
• There is no fine oil lubrication in the whole pressurization system to prevent the possibility of oil contact with high pressure and high purity gas and to ensure the safety of the machine.
• The whole system has no lubrication and oil distribution system. The machine structure is simple, convenient to control and easy to use.
• The entire system is oil-free, so the pressurized medium does not impair the purity of the gas. The inlet and outlet purities are unchanged.
Cylinder filling oxygen compressors are suitable for 3-4 bar inlet pressure and 150 bar outlet pressure.
The oxygen gas produced by Ideal Makina PSA Oxygen Generators is filled into the cylinders to be used for hospitals and metal cutting welding processes. Compressors are suitable for 24/7 operation.
COMPRESSOR FEATURES:

The service life of the wearing parts can be effectively extended by using a water cooling system in the compressor. High pressure protection, high exhaust temperature protection, safety valve and temperature gauge are available for each stage. If there is excessive temperature and overpressure, the system signals out an alarm and stops, thus ensuring safe operation. The compressor can be easily transported by a forklift.
PRODUCT CHART

TECHNICAL FEATURES
100% oil free, no oil required (depending on specific model)
Casted stainless steel cylinder
Suitable for VPSA, PSA and LOX gas sources
Inlet and outlet gas purity is maintained
High reliability and high quality comparable to the American RIX brand
Low maintenance cost and easy usage.
4000 hours segment operating life under low pressure conditions, 1500-2000 hours operating life under high pressure conditions.
CE approved in order to meet the requirements of the EU market
Low speed, long lifetime, average speed 260-350RPM
Low noise, average noise below 75dB, can work quietly in medical field
24/7 operating feature