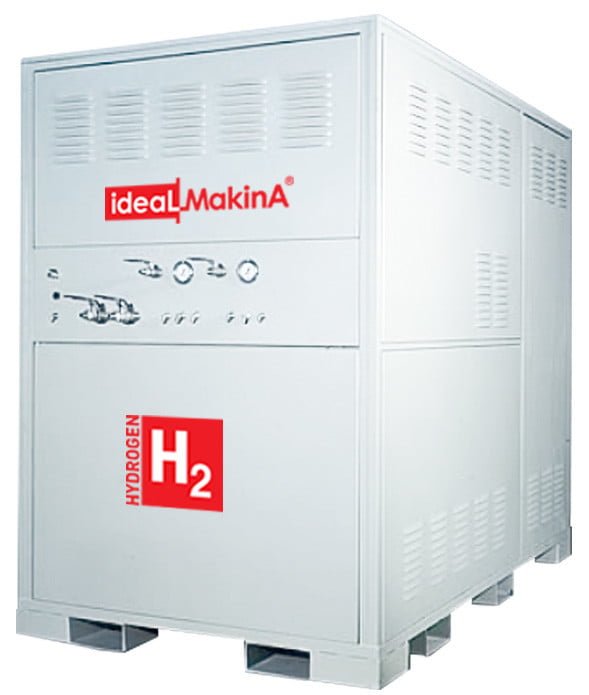 Ideal Makina provides on-site production to its customers with its reliable, economical, long-life HYDROGEN GENERATOR. Instead of meeting your hydrogen needs with high costs vy purchasing cylinders, you can supply your own hydrogen generator and provide production at your business with much more affordable costs and can add value to your business by a pay back period of 1-2 years.
Which technology is the most proper one for my business?
Ideal Makina offers two different hydrogen production system to its customers by considering the hydrogen utilization capacity and auxiliary operating possibilities. While hydrogen generators producing with electrolysis method are suitable for needs in the range of 0-100 m3/h, natural gas sourced SMR HYRDOGEN GENERATORS are recommended for capacity needs over 100 m3/h.
TECHNICAL FEATURES
1-320 Nm3/h. Hydrogen Gas Production Capacity
Transformer, Control Unit, Hydrogen Generator and Purifier work in harmony without affecting each other negatively in seperate cabins.
Patented Special Hydrogen Purifying Towers
High Efficiency, Long Life Bipolars Electrolitic Cells
Standart Outlet Pressure at 5 bar
Hydrogen Cylinder Filling Pressure at 150 bar
Telemechanic M340 PLC Control
Purity Guarantee with Hydrogen Purity Sensor and Analyser
APPLICATION AREAS
Cooling of an Electric Alternator in Power Plants
In Heat Treatment Furnaces
Pipe, Tube and Cable Factories
Galvanized Material Annealing
Flat Glass Factories
Argon Purification in Air Seperation Plants
Heating, Coating and Soldering Applications
Jewelery Industry
ADVANTAGES
Continuous, 7/24 Hydrogen Production
Economic production costs, cost savings up to %80
Advanced Technology
Reliable
Easy Usage
Full Automatic Operation
Hydrogen Purity Up To %99,999
1-300 bar usage pressure
REGULATIONS APPLIED
2006/42/EC Machinery Regulation
2014/30/EC EMC Regulation
2014/35/EC Low Voltage Regulation
2014/29/EC Simple Pressure Vessels Regulation
2014/68/EC PED Regulation
EN 60204-1 Machinery Electrical Equipment Safety Regulation
EN 60079-10 Hazardous Site Classification