PRODUCE YOUR OWN OXYGEN GAS, FORGET YOUR CYLINDER OR LIQUID OXYGEN PURCHASING COSTS!
IDEAL MAKINA PSA Oxygen Generator Systems produce oxygen in the form of gas from compressed air on-site where they are running and offer a cost-effective, continuous and safe solution compared to traditional oxygen gas sources such as cylinders or cryogenic liquid. Our Oxygen Generators; available in 21 standard models with a capacity of 95% purity ranging from 0.5 to 2000 Nm3 / h. The design is made for 24/7 operation. Each oxygen generator is equipped with an automatic start and stop function, which allows the user to start and stop automatically according to oxygen consumption.
WHY INMATEC OXYGEN GENERATORS?
Continues high purity guarantee
Low air consumption and maintenance costs
Easy usage and maitenance
Coloured touch screen
Instant monitoring and recording of parameters such as purity, pressure and flow
Remote Software Control
Maintenance free AISI316L Stainless Steel Control Valves
Made in Germany and German made products used for the production of the generator (zeolite, sensor, valve, vessel, etc.)
Full automatic operation without the need for an operator
7/24 technic support
Plug & Play model selection
Skid mounted mobile design
Mobile containerized design
Cylinder filling up to 150 bars
Uninterrupted Production Guarantee with Redundant Valve System
You do not only buy oxygen cylinder or liquid oxygen, but you do also buy:
Safety problems due to high pressure in the cylinders
Cylinder / liquid oxygen tank rental
Transportation costs
Internal purchase expenses
Labor costs and risks for cylinder when loading – unloading and transportation.
10-15% oxygen leakage due to temperature and internal pressure in the liquid oxygen tank
Oxygen gas pressure fluctuations along with tube changes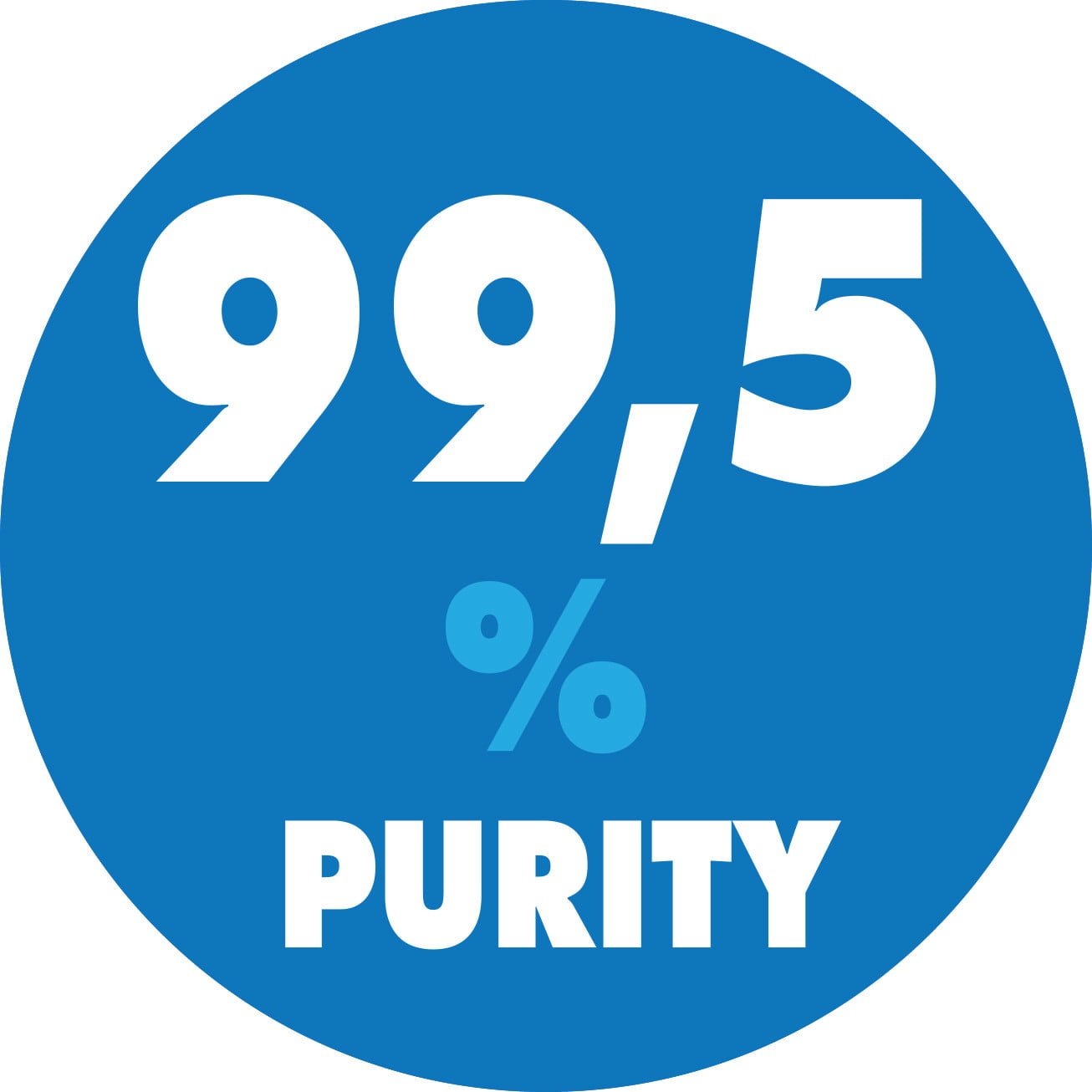 The Solution: IDEAL MAKINA Oxygen Generator Systems
In the amount you need
95% purity (99,5% purity with UHP Series)
At requested pressure
Under your control
It is in your hands to produce oxygen gas at a much lower cost
We know very well what you expect from an Oxygen Generator!
Continues High Purity
High quality but economical
High technology but easy to use
Long life but trouble free
Technical service but 7/24
Through the PSA technology used by IDEAL MAKINA OXYGEN GENERATOR SYSTEMS, you can produce oxygen gas in the range of 90% – 99.5% purity in the capacity range of 0.5 – 2,000 Nm3/h…

95 % Inmatec Oxygen Generators
 Capacity : 0,5 – 2000 Nm3/h
 Purity : 95%
 Pressure : 1- 150 barg
 Technology : PSA (Pressure Swing Adsorption)
Manufacturing Area : Germany
99,5%  UHP Ideal Makina Oxygen Generators

 Capacity : 0,5 – 1700 Nm3/h
 Purity : 99,5%
 Pressure :  1- 150 barg
 Technology : DIA (Developed Ideal Adsorption)
Manufacturing Area : Turkey
We are ready to serve you with our combination of superior German technology INMATEC Oxygen Generator and İDEAL MAKİNA project and application experience. Contact us! 0216 540 88 55
Be our customer like in our Reference List. Purchase solutions, not problems!
PRODUCT CHART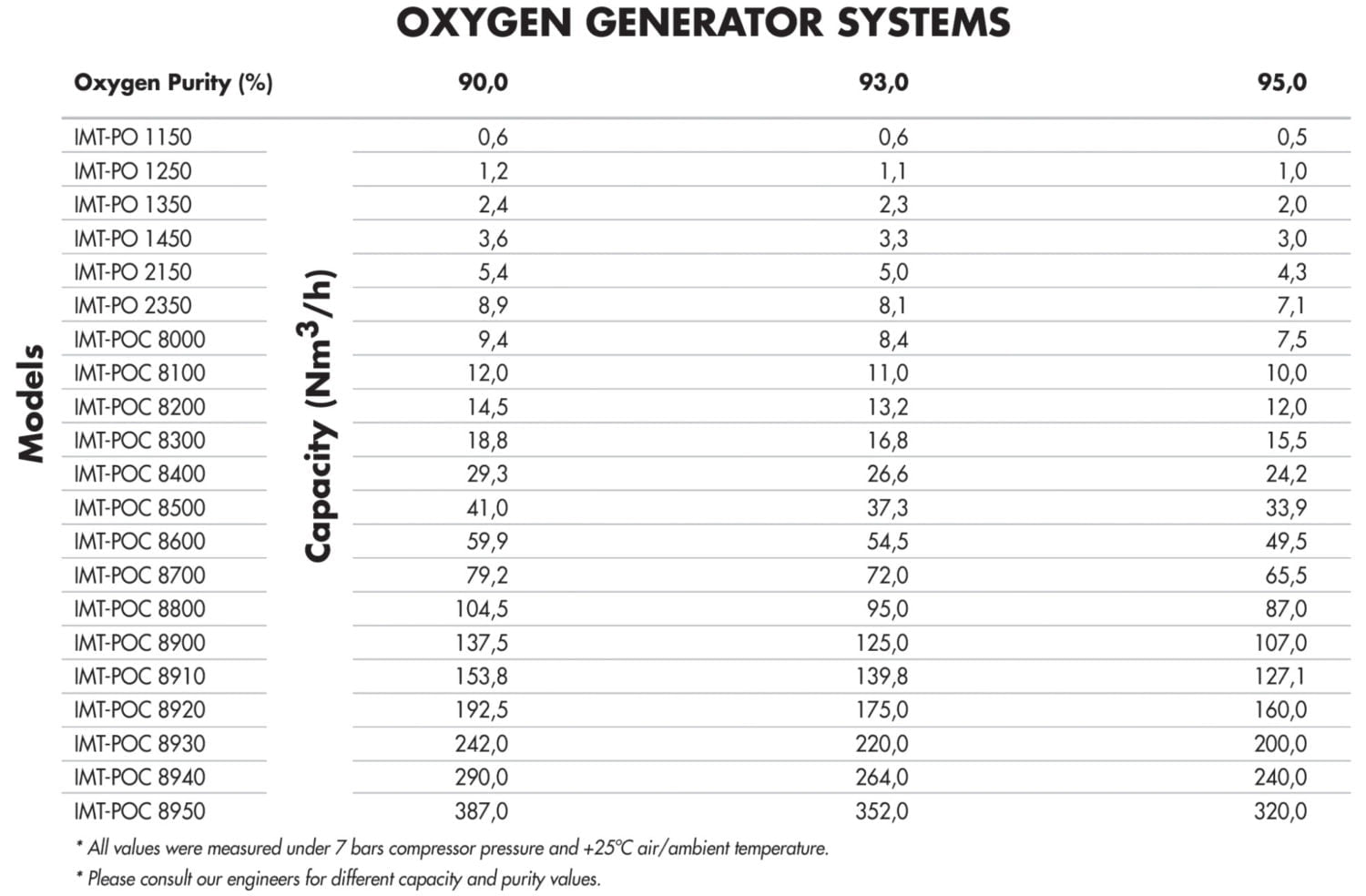 TECHNICAL FEATURES
REQUIRED COMPRESSED AIR FEATURES
Temperature Range: +10 / +50˚C
Air Quality: ISO 8573.1 Class 1.4.1
Dew Point: +3˚C
AMBIENT CONDITIONS
Temperature Range: +5 / +40˚C
Optional: -50 / +60˚C
TECHNICAL FEATURES
Max. Working Pressure: 10 bar
Power Connection: 230V, 50Hz/60Hz
Noise Level: 55 / max 85dB(A)
ADDITIONAL ADVANTAGES
Dew Point Sensor
Flowmeter
Profibus / Modbus Data Transmission
GSM Communication
Lan / Ethernet Connections
RS 232 Simultaneous Ageing
Skid Mounted Mobile System
Container Mobile System
Cylinder Filling Station
* Please consult IDEAL MAKINA Sales Engineers for different ambient temperatures and inlet air pressure values!
WORKING PRINCIPLE
Ideal Makina Oxygen Generators use PSA (Pressure Swing Adsorption) technology to produce oxygen gas from the air.
Ideal Makina Oxygen Generators consist of two tanks containing ZEOLITE. The air; which is pressurized by passing through the air conditioning equipments, enters from the bottom side of the first tank and passes through the entire ZEOLITE inside the tank and transmits it to the oxygen stock tank in high purity.Meanwhile nitrogen, argon, carbon monoxide and other gases trapped by ZEOLITE are released to the atmosphere through exhaust. After the operation of the first tank is completed within the time interval set by the touch control panel, conditioned air enters the bottom of the second tank and passes through the ZEOLITE and is being sent to the oxygen storage tank in pure form. Thus, continues oxygen gas production is achieved by tandem (synchronous) operation of two tanks filled with ZEOLITE.
TOUCH CONTROL SYSTEM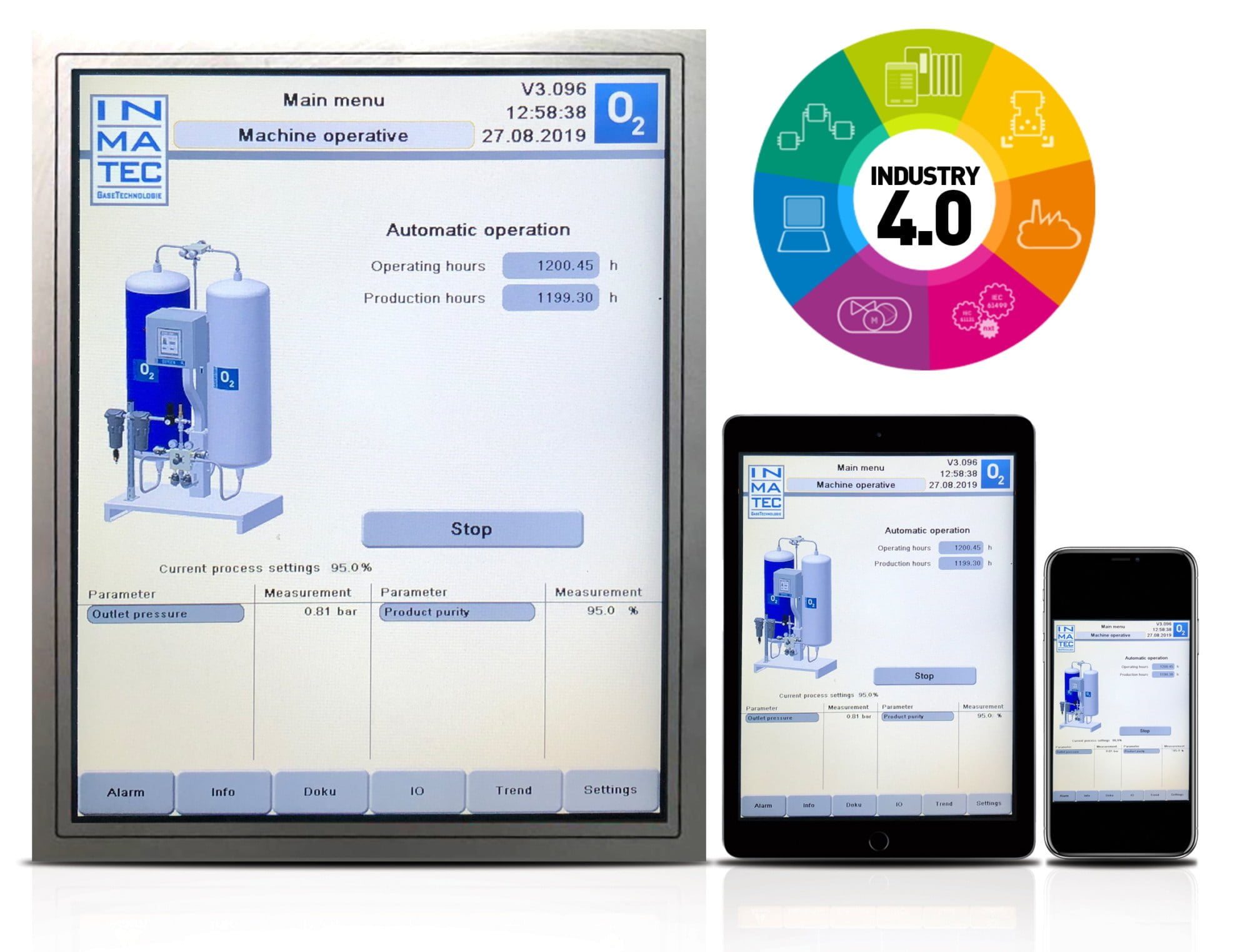 IDEAL MAKINA OXYGEN PRODUCTION SYSTEMS allow the generator to operate fully automatically with its "Touch Control Panel". Through its user-friendly design and ergonomic touch control panel, you can instantly view precise measurements in all applications and can safe this data.
The user will be warned with the alarm that will appear on the screen through the sensors that detect deviations other than the desired parameters.
In addition, the Mobile Application provides remote access to your generator with Industry 4.0 technology from any point in the World.