The German company INMATEC has been producing PSA and membrane type nitrogen generators for more than 25 years. The production is being done in its own factory in the city of Herrsching, near Munich.We are the related distributor for Turkey and 16 countries of INMATEC.
Through the PSA technology being applied, INMATEC produces nitrogen generators up to 95% – 99.9999% (1 ppm) purity in the range of 0.5 – 5,000 Nm3 / h with 30 models.
IDEAL MAKİNA has been the leader in the sector since 2005, with more than 500 systems established in the domestic and international markets as the solution partner of the superior German brand Inmatec. Inmatec Nitrogen Generators have over 7000 references all over the World.
IDEAL MAKINA PSA Oxygen Generator Systems produce oxygen in the form of gas from compressed air on-site where they are running and offer a cost-effective, continuous and safe solution compared to traditional oxygen gas sources such as cylinders or cryogenic liquid. The design is made for 24/7 operation. Each nitrogen generator is equipped with an automatic start and stop function, which allows the user to start and stop automatically according to nitrogen consumption.
Through the developed patented vortex technology, INMATEC is providing more efficient air separation by providing more efficient usage of CMS (Carbon Molecular Sieve) in the new PNC series nitrogen generators. This leads to be the one and only Nitrogen Generator with the least compressed air consumption in the World.
Use smaller compressors, consume less energy with INMATEC Nitrogen Generator.
You can produce your own nitrogen with IDEAL MAKINA NITROGEN GENERATOR SYSTEMS and can forget about your cylinder or liquid nitrogen purchasing costs!
Moreover;
In the amount you need
The purity required by your production process
At required pressure
Under your control…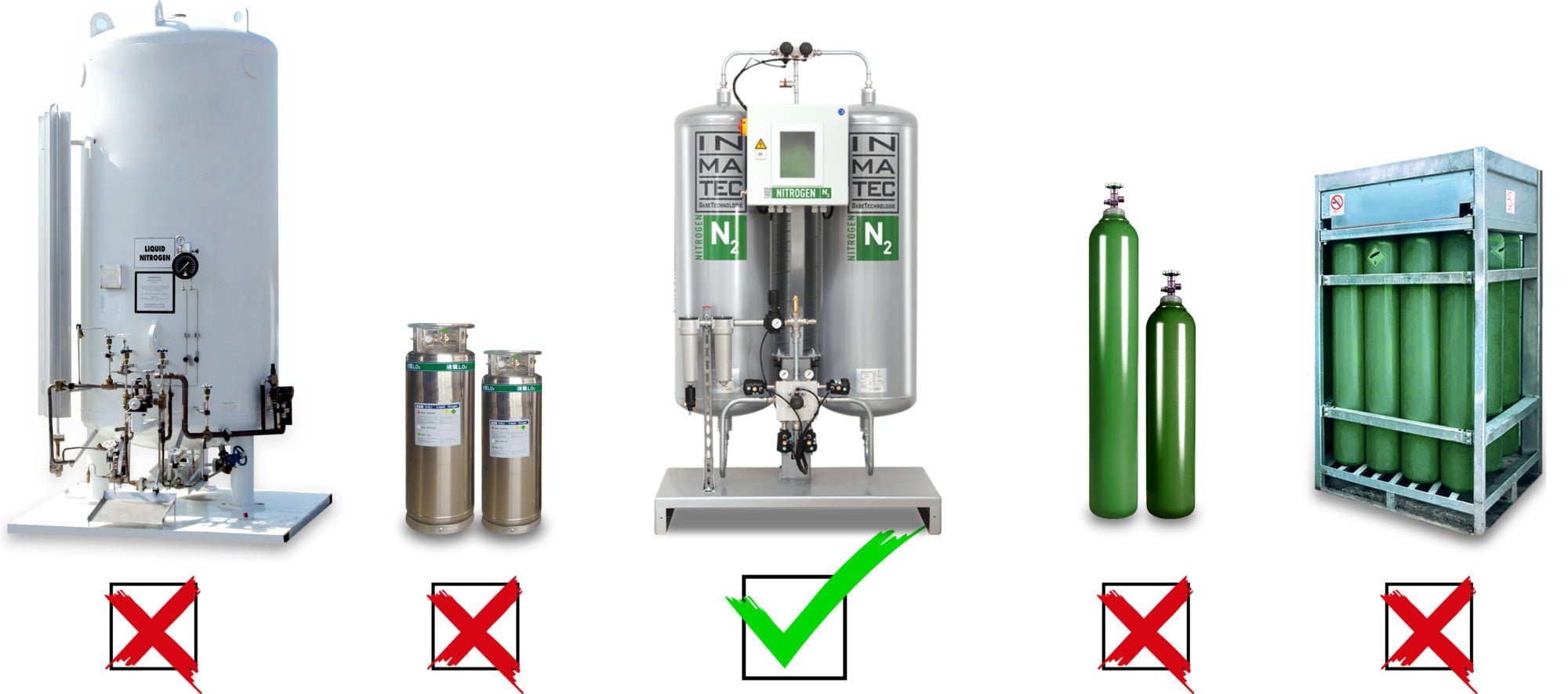 You do not only buy oxygen cylinder or liquid oxygen, but you do also buy:
Safety problems due to high pressure in the cylinders
Cylinder / liquid nitrogen tank rental
Transportation costs
Internal purchase expenses
Labor costs and risks for cylinder when loading – unloading and transportation.
10-15% nitrogen leakage due to temperature and internal pressure in the liquid nitrogen tank
Nitrogen gas pressure fluctuations along with cylinder changes!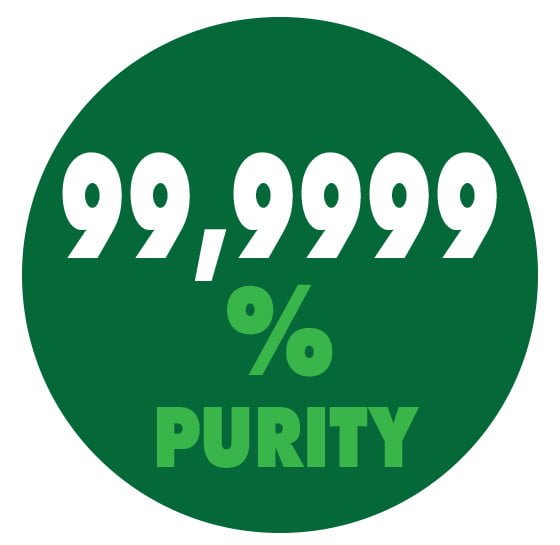 1- Screw Air Compressor
2- Water Seperator and Particle Filter
3- Compressed Air Dryer
4- Activated Carbon Tower
5- Particle Filter
6- Dust Filter
7- Air Vessel
8- Automatic Condensate Drain
9- Nitrogen Generator
10- Nitrogen Generator Buffer Vessel
11- Nitrogen Distribution Set
12- Nitrogen Booster Compressor
13- Nitrogen Bundle
14- Process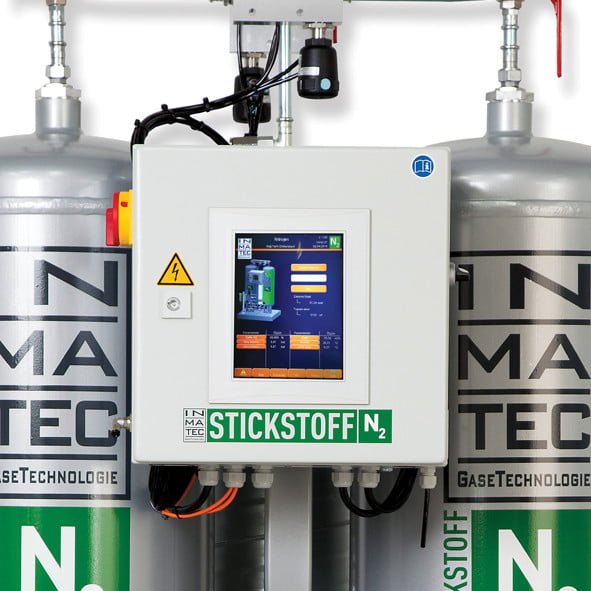 Touch Control Panel
5″ – 10″ Touch Color Screen
16 Language Options
14 Sensor Inputs
Long-lasting Zirconia oxygen sensor
Modbus/Profibus/RMB
IP55 Protection Standards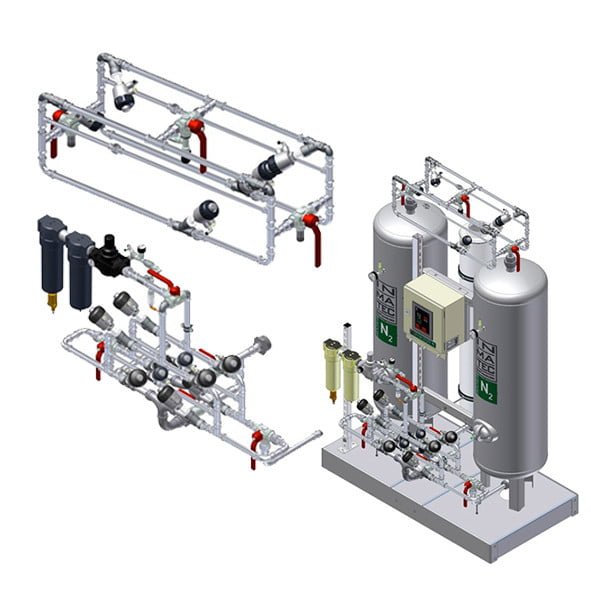 Redundant Valve Technology
Spare Valve Set
Continuous Production Guarantee
Easy Maintenance
Easy Control Function
Leak-proof valve connection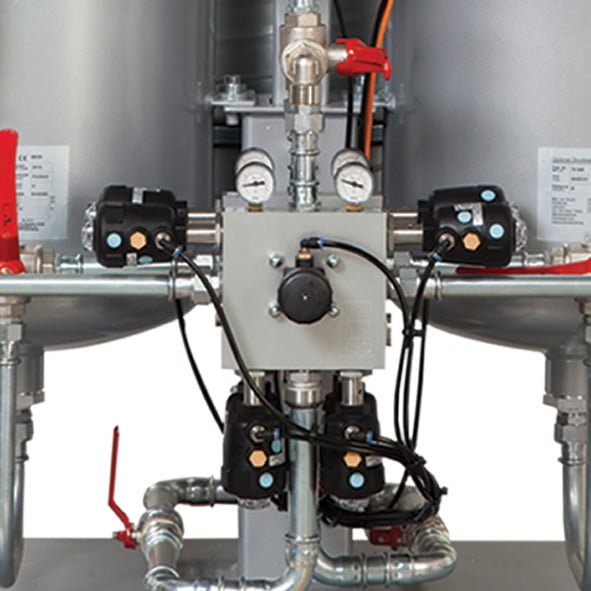 AISI 316 Block Valve Technology
German 'Bürkert' Process Valves
High quality stainless steel
Pneumatic Control
No maintenance need
Small footprint monoblock design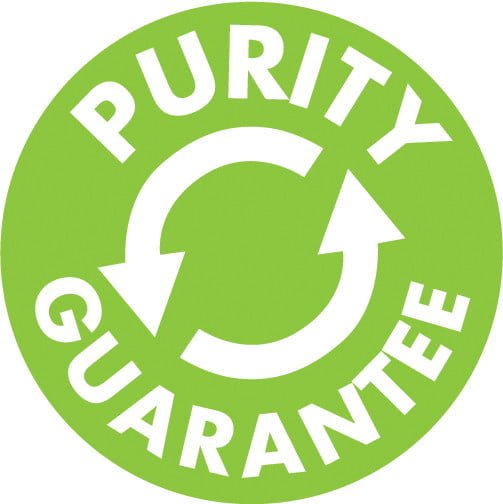 Autopure Technology

Continuous purity control
Purity Guarantee
Purity Control Valve
Low purity relief valve
Extra purity control line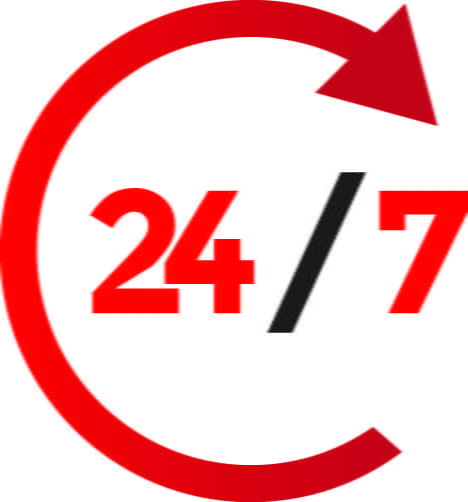 24/7 Service Support
Expert technical service
Online Technic Service Support
Installation and supervisor service
Fast and effective intervention
10-year spare parts warranty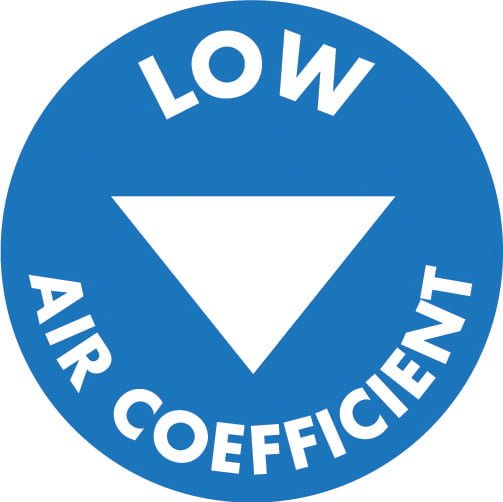 Low Air Factor
Vortex technology
The lowest air factor in the World
Air consumption to the extent required
Nitrogen production at high flow rate with a smaller compressor
Low energy consumption, economical nitrogen production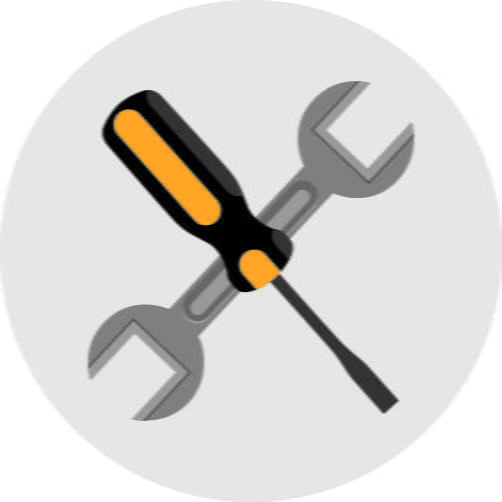 Low Operation and Maintenance Costs
Long maintenance period
High quality equipments
Low spare parts and service costs
Maintenance-free exhaust and valve technology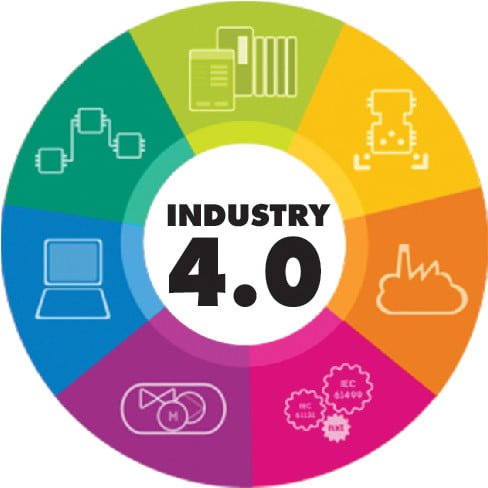 Industry 4.0
Modbus / Profibus / RMB / Ethernet access and remote control options
Remote access via Android and IOS based applications thanks to GSM module.
Single point control of system equipment such as compressor, dryer, nitrogen generator, booster and filters.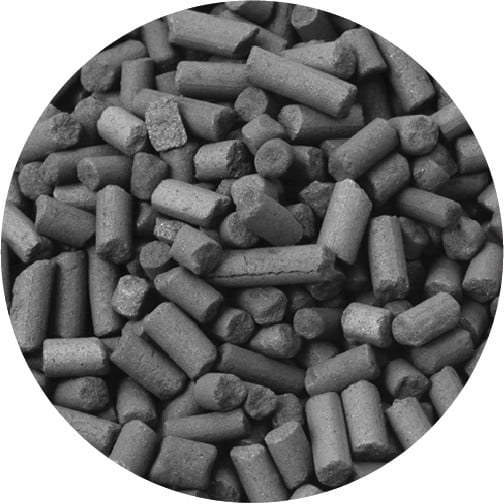 High Quality CMS
German made CMS
60,000 hours / 10 years performance guarantee
3°C dewpoint is sufficient in compressed air, no need for chemical dryer.
Environment friendly
PRODUCT CHART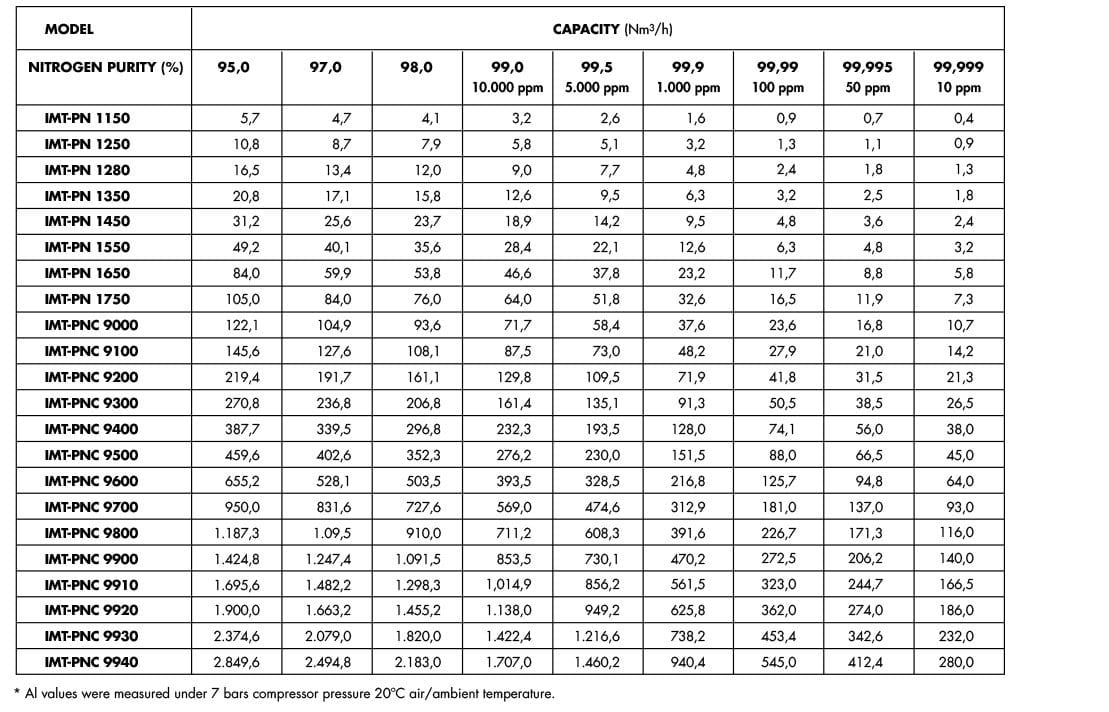 TECHNICAL FEATURES
REQUIRED COMPRESSED AIR FEATURES
Temperature Range: +5 / +50˚C
Air Quality: ISO 8573.1 Class 1.4.1
Dew Point: +3˚C
AMBIENT CONDITIONS
Temperature Range: +5 / +40˚C
Optional: -50 / +60˚C
TECHNICAL FEATURES
Max. Working Pressure: 11 bar
Power Connection: -230V, 50Hz
Noise Level: 55 / max 78dB(A)
ADDITIONAL ADVANTAGES
Dew Point Sensor
Flowmeter
Profibus / Modbus Data Transmission
GSM Communication
Lan / Ethernet Connections
RS 232 Simultaneous Ageing
Skid Mounted Mobile System
Container Mobile System
Cylinder Filling Station
* Please consult IDEAL MAKINA Sales Engineers for different ambient temperatures and inlet air pressure values!
ADVANTAGES
Continues hig purity guarantee
Low air consumption and maintenance costs
Easy usage and maitenance
Coloured touch screen
Instant monitoring and recording of parameters such as purity, pressure and flow
Remote Software Control
Maintenance free AISI316L Stainless Steel Control Valves
German made
German made products used for the production of the generator (zeolite, sensor, valve, vessel, etc.)
Full automatic operation without the need for an operator
7/24 technic support
Plug & Play model selection
Skid mounted mobile design
Mobile containerized design
Cylinder filling up to 200 bars
WORKING PRINCIPLE
İdeal Makina Azot Jeneratörleri havadan azot gazı üretmek için PSA (Pressure Swing Adsorption) teknolojisini kullanmaktadır.
İdeal Makina Azot Jeneratörleri, içerisinde CMS (Carbon Molecular Sieve) bulunduran iki adet tanktan oluşmaktadır. Hava şartlandırma ekipmanlarından geçerek basınçlandırılan hava azot jeneratörü birinci tankının altından girip tank içerisindeki tüm CMS'den geçerek jeneratörün üzerinden azot stok tankına saf halde gönderiir. Bu esnada CMS tarafından tutulan oksijen, argon, karbonmonoksit ve diğer gazlar egzoz yoluyla atmosfere bırakılır. Dokunmatik kontrol panosunca set edilen zaman aralığında birinci tankın işlemi bittikten sonra, ikinci tankın altından şartlandırılmış hava girer ve tüm CMS boyunca geçip jeneratörün üzerinden azot stok tankına saf halde gönderilir. Böylece kesintisiz azot gazı üretimi CMS doldurulmuş iki tankın tandem (senkron) çalışmasıyla sağlanmış olur.
TOUCH CONTROL SYSTEM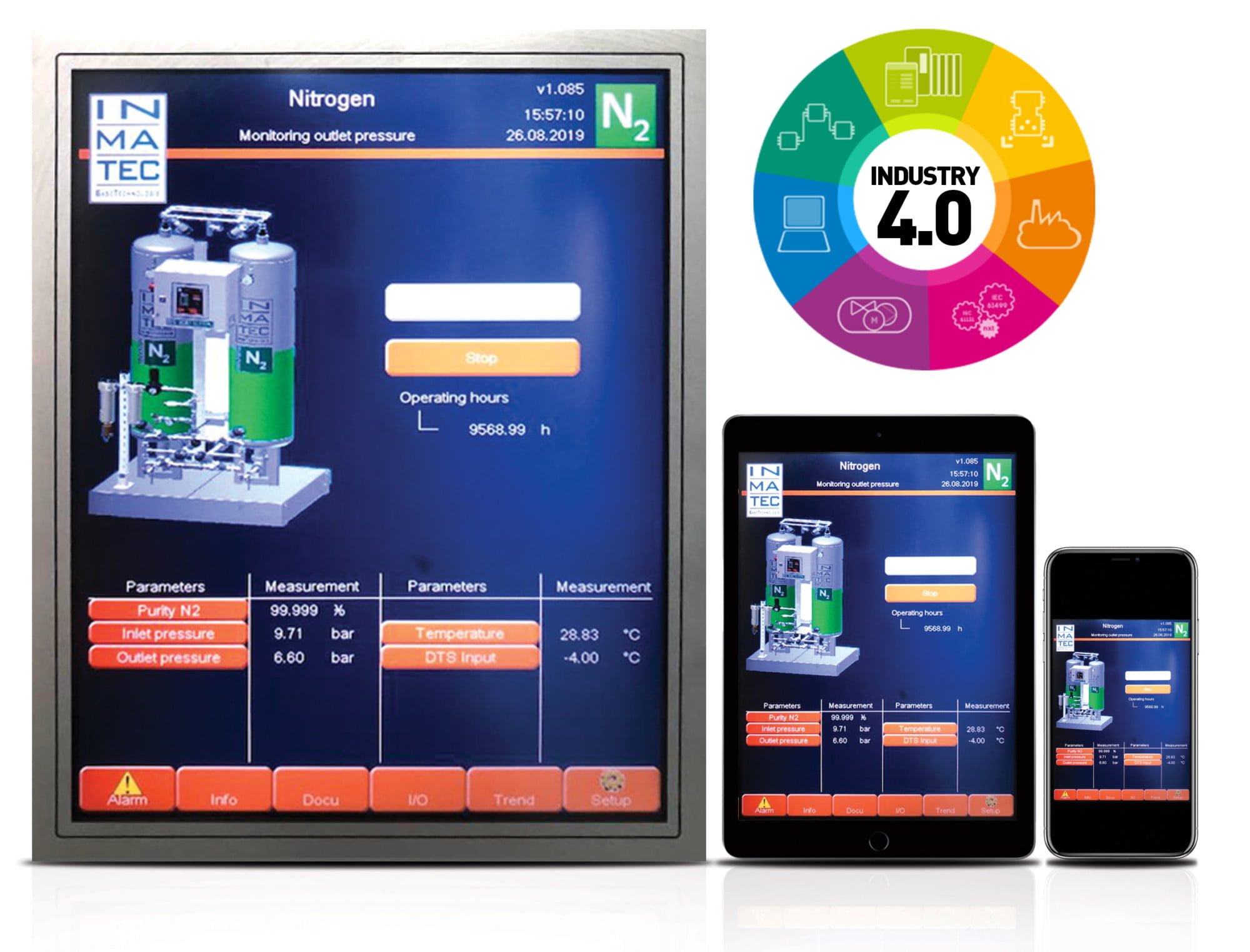 SIMPLE and EASY MANAGEMENT!
IDEAL MAKINA NITROGEN PRODUCTION SYSTEMS allow the generator to operate fully automatically with its "Touch Control Panel". Through its user-friendly design and ergonomic touch control panel, you can instantly view precise measurements in all applications and can safe this data.
The user will be warned with the alarm that will appear on the screen through the sensors that detect deviations other than the desired parameters.
In addition, the Mobile Application provides remote access to your generator with Industry 4.0 technology from any point in the World.